Canoeing Ol' Man River
by Noel DeCavalcantes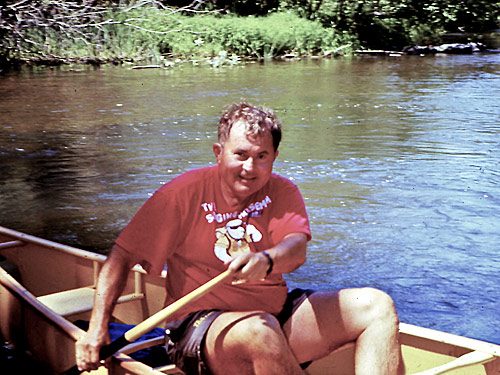 I began my Mississippi River journey on 17 July 1990 and completed it three and a half months later at the Head of the Passes to the Gulf of Mexico. I paddled (no floating) 2301 miles through ten states on a river that varied from five feet wide to more than a mile across.
I crossed 17 beaver dams, made 15 portages, went over or through 30 locks and dams, and passed some 200 cities, towns and villages. I was passed by more than 1,000 tows (tow-boats pushing more than 20,000 barges) and about 350 ocean liners. I averaged 25 miles a day on the upper Mississippi above St. Louis, 35 on the lower, and my biggest day was 50 miles.
And I never tipped over.
But, I get ahead of myself. My Mississippi River adventure almost never happened! A few days before finishing a 2138-mile trek of the Appalachian Trail the year before, I took a bad fall and hurt my left shoulder and arm – I thought. Months later, the injury was correctly diagnosed as a ruptured disc in an upper vertebra in the back of my neck. Fortunately for me, one of the country's leading neurosurgeons was nearby to remove the disc and fuse the vertebrae together with bone from a cadaver.
Ninety days after surgery I was ready to paddle "The Mighty Mississippi." Nine days before my departure date, I called the Winona Canoe Company and ordered their 17-foot Spirit 11, light as a feather and made of Kevlar, a new type of plastic material used for bullet-proof vests and Army helmets and reported to be the lightest and strongest in existence.
I ordered a third seat to be installed in the center of the canoe to ease solo paddling. I also wanted all wood seats and trim, and a wooden yoke for carrying the canoe (it weighed 56 pounds) on my neck and shoulders. I asked for all of this custom work and delivery to Minnesota's Lake Itasca, headwaters of the Mississippi – in nine days. Winona said I was asking for the impossible, but they would try. The next day Bob Wagner called me from Bemidji and said he would pick up my canoe and have it at Bemidji when I arrived. From there he would drive us to Lake Itasca. Everything had fallen into place.
"It is a monstrous big river," said Mark Twain of this grand-daddy of all rivers. At Lake Itasca there was nothing more than a small stream running from the lake. We knew this was the Mississippi River because a sign carved in a tree said so!
Bob started out with me the first half mile or so, mostly pushing and pulling the canoe over the rocks in the shallow water.
As I look back on this most formidable of rivers, I see it as six rivers or a river of six distinctly different faces. The first was The young Wilderness Stream, meandering slowly northward through the majestic beauty of desolate wilderness, forests and marshlands for sixty-two miles. I loved it. It was here that I crossed or went around the beaver dams. They usually waited until I was next to them before they slapped their tails on the water and scared me to death.
I saw wildlife constantly and often wondered how many more sets of eyes peered at me through the dense underbrush from their hidden vantage points along this peaceful, serene stream. I was invading their territory. The otter families Phitt!ed at me and I'd Phitt! back at them: it became a game. The deer would bravely snort and scrape the ground with their hooves as if to ask, "how dare he enter our domain?" The raccoons in their bandit masks would stop and stare. The muskrats would go about their business.
I was forever passing families of ducks, usually a mother and half a dozen ducklings. The mother would hide her babies, then feigning an injured wing, she would lead me downstream away from her young ones. After half a mile or so she would suddenly fly off, doubling back to her family.
It was all so very beautiful and remote, but it wasn't easy. As I followed the river through miles of marshes there were times when the only way I could find my direction was to watch the bending reeds under water. Twice I had to get out and drag the canoe through the thick marsh waters infested with leeches. I got them all over me. One was between my toes and I didn't find it until hours later when I had to get out of the canoe in search of drinking water.
I squished him like an over-inflated balloon. Ugh! The second time I got out to pull the canoe through the marsh was much more difficult, because now I knew ahead of time what was going to happen. The leeches returned. I drank the water in this part of the river although I boiled it first. This was definitely the most picture-perfect part of the river in my eyes – except for the leeches.
I finally reached the town of Bemidji, home of Paul Bunyon, where Bob Wagner and his wife, Val and their children again met me. They brought along the Bemidji Canoe Club and everyone started off my second portion of the river by paddling a half day with me. Their friendliness and kindness were things I'll not forget. They really gave me a good feeling; I wasn't alone out there
The second face, The Playful Growing River, continued its question-mark shaped course through Minnesota. First it had gone north to Bemidji, then it made its way east through several lakes and finally it started south around Grand Rapids and on to Minneapolis hundreds of miles away. Now I encountered the fifteen overland portages where I had to carry the canoe and all of my equipment around obstructions in the river, usually a dam and waterfall. Some were short, most were through the woods, the longest stretch about a mile.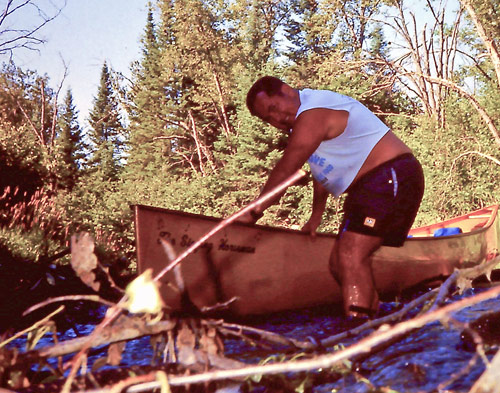 The river was still very much in an outdoors teeming with wildlife, but now there were occasional small towns along the way and that made it nice. A day out of Bemidji brought me to Lake Winnibigoshish, the largest of all lakes through which the Mississippi runs, ten miles straight across or fifteen miles along the shoreline north or south. Bob Wagner and others had instructed me, in no uncertain terms, to take the shoreline north or south depending upon the wind. The lake is relatively shallow and gets very rough when the wind blows.
I started south along the shoreline before noon, but quickly realized there was scarcely a breeze on this nice sunny day, and decided to cut straight across. I would save about two hours of paddling, I thought. I'd gone about halfway when the sun started to cloud over, the wind began to blow and it started to rain. The next thing I knew I was in a full-fledged storm. Every wave came over the side and I battled for my life for the next six hours, paddling and bailing, bailing and paddling. My life jacket was tucked neatly under my seat.
Luckily, a line connected it to the canoe and was tied to my waist. At least if I capsized the three of us would be close at hand. To top it off, no one knew I was out there. That was an experience I will not forget. I was on "the edge" for those six hours! When I finally made it to the safety of the shore I was exhausted, but the "River Goddess" had been with me. Within an hour the sun was out (it wasn't setting until nearly 10 p.m. those days) and the lake was as smooth as a baby's butt. I filled my belly with Spam and beans and, safe and sound in my tent, went to sleep to the hum of ten million mosquitoes, with 800 milligrams of Ibuprofen to put out the fire in my shoulders and neck.
Grand Rapids was a pleasant stop. Jim and Marin Hagin, owners of the Barton Canoe Paddle Company put me up for a couple of days and Jim made a special 14-ounce graphite paddle for my son, Mike, who was to join me in a week or so. It was with sadness that I left my new friends, but the river called. It had me now. I was heading south for the Gulf of Mexico.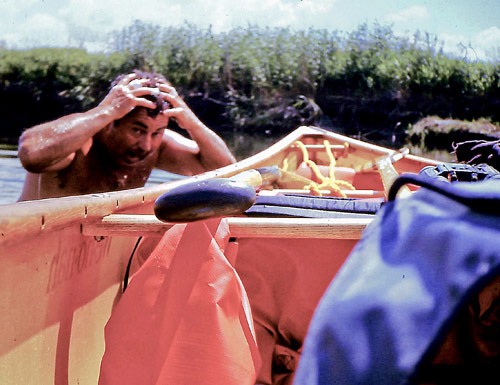 Then came the rain – five days of it. I was wet and cold most of the time and had muddy riverbanks to climb and drag my canoe up and down each night and morning. After the rains came the deer flies. One is a real nuisance, but hundreds at one time are maddening. No words can adequately describe their attacks on me. I had to wear my foul-weather gear in the heat of the day to keep them off my skin. The bug lotion reacted to the coating on the canoe paddle and my hands would stick to it – pure frustration.
At one point, when complete panic overwhelmed me, I pulled the paddle so hard through the water that it broke. Not my son's new Barton paddle, but another one that was expensive and supposedly unbreakable. Such experiences weren't much fun, but they were all part of this "Great American Adventure" (that is what my mother called it).
I had twelve mail drops at different towns along the river from Minnesota to Louisiana. It was fun to walk into each post office; they seemed to be waiting for me, wondering who was "The Singing Horseman." I always had a ton of mail. Jim Hagen had answered my call for help and had another new Barton paddle waiting for me at the Post Office at Little Falls. My son, Michael, was there also.
Now, I had a companion, and three good paddles, two of the new bent-style, light-weight graphite and one wooden six footer I used when standing. I paddled standing about a third of the time when I was alone.
The two and a half weeks that Mike was with me were the most enjoyable of the trip, maybe the best in my life. Not only was he a big help, but it was father and son together, facing inherent dangers of the river and enduring the hardships and adventures this journey had in store.
We camped on sand banks, on islands, anywhere we could. We ate every meal together, slept together, and paddled hour after hour together, always laughing and prodding each other on. At Minneapolis, we spent a couple of days with an Appalachian Trail hiking friend, "Minnesota Slow Foot," Ken Erickson, and his wife, Gladys. It was another delightful time with good people.
The third face of the river was to begin with new perils and the excitement of locks and dams and giant, monster tows. I call this The Commercial River. A tow is the combination of one or more tow boats pushing cargo-carrying barges, usually fifteen. Close up they were frightening: they were so big and my canoe was so small. The waves they created were varied and big, and if you were between a tow and a retaining wall you got the waves coming, going, and meeting. I steered clear whenever possible.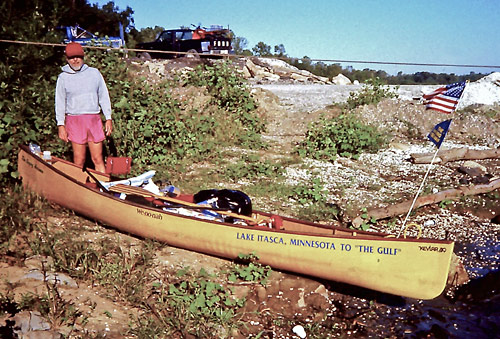 The locks were a new experience, intimidating at first. I felt like I think a grasshopper would feel in a new swimming pool, but soon we got the knack of them and became pros. We went through several by ourselves without other boats. It wasn't long after Minneapolis that we reached Lake Pepin, where some folks we had met at Little Falls had a summer home right on the lake/river.
They had invited us to visit. It was 7:30 on a Thursday night when we got to their place; not exactly the best time to drop in on someone, but Jim and Anita Sullivan, their family and friends greeted us like long lost sons. We had showers and then ate charcoaled steaks and everything that goes with such a feast. The next morning after Anita fixed us a great breakfast we were on our way.
Although my canoe was still in good shape and had no holes in it, I thought it best to stop at Winona and have it inspected. I had hit a lot of rocks and boulders that had gouged and scraped the bottom and sides. Mike and Karen Chickenowski, owners of the Winona Canoe Company, met us on Saturday morning and while Mike worked on the canoe, Karen took us on a tour of the town. We had to turn down their invitation to spend the night; Mike's time on the river was growing short and we had to press on.
Above Lock 13 one afternoon, we found ourselves in a large lake the locals call Pool Number 13. The sun suddenly disappeared and the sky turned black, and I do mean black, scary black. The wind came from our backs with such force it was like riding waves in the ocean or surfing in a canoe, but a whole lot more scary. Two large boats, one a pleasure cruiser and the other a private yacht came to render assistance. I was grateful but declined because I feared we would capsize immediately if we stopped paddling.
They stood by ready to rescue us, certain we wouldn't make it. We were too busy to worry about anything but paddling. Again, The River Goddess helped us and we made it to shore just as all hell really broke loose in thunder and lightening. The men at Lock 13 let us sleep in their control room that night. After a hot shower and a ton of Iowa potatoes, we slept well, even on the concrete floor. Toot, the potato cooker and lock supervisor, told us that the highest wind that afternoon was recorded at 56 knots. We drifted off thanking our lucky stars and the River Goddess. I'm getting too old for this sort of excitement.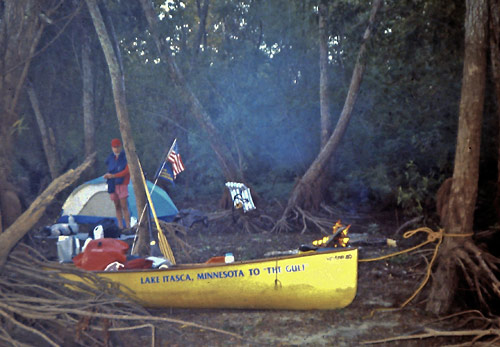 We had completely passed through Minnesota and now the river continued along the beautiful woodland shores of Wisconsin and Iowa and then into Illinois and Missouri. Mike finally had to leave to return to Harvard Graduate School. It was the saddest moment of my journey. I shall always remember that rainy afternoon when he climbed out the canoe to hike to a highway and hitch a ride to O'Hare Airport.
I was alone again. At a lock, waiting for a tow to go through, I suddenly realized that the wind and current were forcing me into the lock and turbulence of the tow boat's big engines. I paddled with all my strength and barely got clear of the lock, only to find myself out in front of the dam. The lockmaster was blowing the danger whistle, people were running around and shouting frantically, and I was paddling. I thought I would make it, but then I realized the inevitable.
I was going to go over the dam. What looked like a big drop was actually only two feet or so, but the lodes and stumps swirling below in the turbulent waters looked ominous. I turned the canoe straight downstream and paddled as hard as I could over the edge. The front end clipped and went under and the rest followed, but then, somehow miraculously, the canoe popped back up. Drenched but still afloat, I decided it had been kind of exciting.
The Air Force, from which I am retired, had an interest in my adventure, and sent Afc. John Plaviga, a journalist, to paddle with me from Hannibal to St. Louis, Missouri. John is a good sport and a courageous young man, but he's a city boy with little knowledge of the outdoors. He had never been in a canoe, and I was to find out later that he really feared the water and what was in it, although he told me he could swim. This was a brand new experience for him, sleeping among animals, cooking over an open fire and sitting in the blazing sun all day, using muscles he didn't know existed.
He was happy and relieved when we reached St. Louis. In his story later he confessed, "After seven days on the river, I've been stretched to my physical and mental limit." When we rounded the bend coming into St. Louis, what greeted us seemed to be a mirage but turned out to be the real thing, the only floating McDonald's in the world. What a fabulous welcome to the Gateway City.
Here, I stayed with my dear friends, St. Louis attorney, "Fred-the-Fed" Birmingham and his wife, Fran. In the words of the immortal Judy "J Walker" Gallant, "Appalachian Trail friends are forever friends."
Fred-the-Fed got so excited by my stories of the river that he threw all caution to the wind and decided to join me for two days. He also was not a canoeist.
This was now a completely different and much more dangerous and unforgiving river. The current was faster and more powerful and now the tows would be two and three times their original size. Mark Twain's "monstrous big river" was here.
As a matter of interest, a tow boat pushing forty-two barges is the equivalent of 2,436 large semi tractor-trailers (18 wheelers), and I saw several 42-barge tows. I was in awe: they were gigantic. There was more commercial traffic, the water was muddier, everything was bigger, stone fences or jetties extended into the river to keep the current moving and the channel deeper – and to provide an obstacle course for me to crash into. And there were weird currents, whirlpools and "boils" to contend with. They would suck my canoe under and spin it in a 360- degree circle.
At times, I was helpless. Large revetments, which went on for miles, were constructed to contain the river and keep it from flooding the infrequent towns. For me, they meant isolation and loneliness, it was easy to pass a small town or village hidden behind a revetment and not even realize it existed. This portion of the river went on for some thousand miles, all the way to Baton Rouge. I call this face The Monstrous Big and Lonely River.
One town I didn't miss was Caruthersville, Missouri, where I stopped to visit my deer-hunting buddy, "Curly" Ward and his wife, Marla. As I pulled the canoe out of the water and carried it and my equipment about two hundred yards up the steep river bank, an old "river man" watched me. When I got everything to the city park at the top of the revetment, he came towards me, looked me over, and said in a slow Missouri drawl, "I admire your courage, but question your sanity."
Another close friend, Dr, Ron Milnarik, an Air Force colonel, joined me a couple of weekends. Ron is of a special Breed. He hiked to the South Pole overland on skis a couple of years ago, the first American to do so. He reminds me of Superman. Like the mild-mannered, polite Clark Kent, in uniform Ron is an officer and a gentleman, but put him in a canoe in shorts and a T-shirt and he becomes a human dynamo who doesn't understand words like "quit." "fear" and "can't."
One night we camped on a small island and woke in the morning to find a rising river had turned our single island into two and separated us from the canoe, which was about to be washed away (to say nothing of us and our tent on the verge of floating off). The fact that we could wade across the separation and save our transportation tempered Ron's enthusiasm to fight the current and swim across the river in a rescue mission. A rising river was a constant concern of mine and flash floods were always on my mind.
Another time, with Ron in the stern we were cutting short a river bend to beat a giant tow pushing thirty-six barges and we almost ended up being run over and swamped. The tow captain was blowing his emergency whistle and doing his best not to hit us. Ron's reaction was. "Gee, didn't realize we had a problem." A river pilot of thirty years told me over coffee one morning, "you wouldn't catch me dead out there on that river in a canoe, too many unknowns, and dangers lurk beneath the surface." That made me feel good and inspired my confidence, ho-ho-ho!
I had just passed through Kentucky, Tennessee and Missouri and into Arkansas. At Helena, I stopped for a couple of days to rest,and was befriended by Peg and Pug Hensen and their kids, a wonderful Southern family whose hospitality and friendship were overwhelming.
Then on to Greenville and Vicksburg, so my charts said. I wouldn't know as I didn't even get to see these cities. The river was really lonely now. An occasional fisherman's wave or a toot from a passing tow was about my only contact with the outside world. I remember one exciting night camped on a small island. My weather radio issued a severe weather warning, rain and high winds. I thought it would pass north of me. Around midnight it hit me like a ton of bricks.
First, there was about an hour of fighting gale type winds. Just holding my tent together and keeping it from blowing away with me in it, was all I could do. The rain, with its accompanying thunder and lightening, hit and I figured I was a sure "living lightening rod" there on my island with nothing but my tent. Till daylight I battled rain, wind and cold. When the storm finally passed on, a couple of fishermen appeared out of the mist to see if I had survived.
They had seen me the afternoon before and knew I was still in the area. They offered to help me, but there was nothing they could do; I just needed sleep and sun to dry out my stuff. Sleep I got that night, but it continued to rain on and off for three days, so I just lived and slept wet again, nothing new for me.
By the time I reached Natchez, Mississippi, I was having second thoughts about this entire venture. My spirits were at a new low. My inclination was to get off the river and finish next year with someone else for company. I got a room for the night above the Under-the-Hill saloon and called Fred-the Fed.
As soon as I said hello, his first words were "Where are you? I want to join you again and finish the river with you" I couldn't believe my ears. I was so happy. Somehow, Fred had heard my call for help. All thoughts of stopping disappeared from my mind, and Fred-the –Fed met me at Plaquemine, Louisiana, just south of Baton Rouge, and the fifth face of the river, The River of Ocean Ships.
This stretch from Baton Rouge to New Orleans, although perhaps not the most desirable, was very exciting and beautiful in a different way, not in the beauty of the land, but in the big ocean liners with which we now had to contend and the modern cargo terminals, the tug boats and still the tows. With all this commercial traffic and activity, there was never a dull moment. It was sort of like being in the middle of a busy intersection trying to get across.
We had problems finding a place to sleep at night, but somehow we always managed. We stopped further south of Baton Rouge, hid the canoe in the weeds under a bridge and hiked a mile or so to Lafitte's Landing Restaurant, one of Fred's harebrained ideas. It turned out to be a very exclusive first-class restaurant, but even in our grubby shorts and T-shirts they allowed us to come in after I explained what we were up to. Later, owner/chief John Folse (voted the Outstanding American Chef of 1990 by the other chefs in the USA) came out to meet us.
We talked for ten minutes or so and then we became instant celebrities and everyone started asking questions. It turned out to be a wonderful restaurant and lunch. Lou and Kim Harris came to our table and invited us to stay at their home in New Orleans, so a few days later when we arrived in the city, I called Lou. He borrowed his son's truck, picked us up and we spent two wonderful, fun-filled days at their lovely Victorian-style home. The hospitality of the river and the South was very much alive. Some people were wealthy, some were poor. It made no difference. They were all friendly people who wanted to help me along the way.
It was in New Orleans that we prepared for the river's last phase, The River of Bayous. It returns to wilderness once again, but now it is a vast river of ocean liners carrying grain, oil and cargo to ports worldwide. We were warned that after New Orleans we entered Plaquemines Parish, an area where things ran differently. Bayou pirates probably would rob us by day on the open river or may slip into our camp at night to rob or murder us.
We had to prepare ourselves. Down here it was a different world; this was real Tom-and-Huck excitement. With that in mind we set off to cover the next and final 100 miles of the journey. After a day and a half of hard paddling, the high winds and resulting giant waves forced us to spend two days at the ferry landing near the village of Scarsdale. We pitched our tent on the levee close to the "A and A" Junction Food Store. We were apprehensive, to say the least. If anything bad was going to happen, this was going to be the place.
We couldn't have been more wrong. Store owners Tony and Anna Cacioppo quickly became our friends. We met Parish President Luke Petrovich shortly after our arrival, as well as Chief Deputy Sheriff Ralph Feranto. I asked about the "Bayou Pirates" and they laughed. Chief Feranto guaranteed that nothing would happen to us while we were in his parish. His deputies checked on us at all hours of night and day. They followed us by helicopter, and the last day escorted us part of the way in their river launch Authority II.
We had nothing to worry about down here. It seemed everywhere we showed up people were there to help us. When we arrived at Venice, Mile Marker 11, Jim and Sally Bayhi materialized out of nowhere. They found us a motel to spend the night and Jim's dad drove us there in his car. They also found us a warehouse on the river to store the canoe. Then they were gone. What nice folks. We paddled the last eleven miles pretty much in silence. The river was big. It was mostly wilderness now but a different kind, bayous with snakes and crocodiles. It was warm. It was beautiful.
We passed Pilottown, a little community on stilts. I emphasize little; river and ocean pilots are really the only people who live there. Then, before we knew it, we were at the end. In the middle of this vast river, it seemed like an ocean, with three passes leading out to the Gulf of Mexico.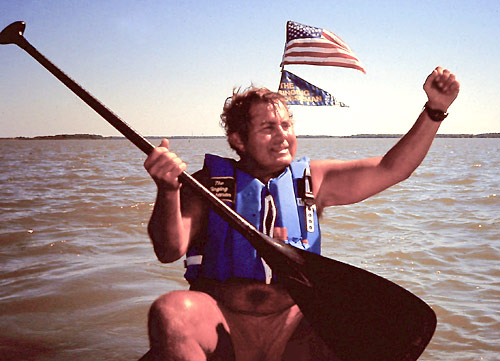 I had made it. I had conquered the Mississippi River in a canoe and completed "My Great American Adventure."
Would I do it again?
I'm not sure. It is "a monstrous big river!"