ABOUT US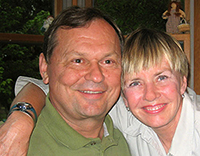 Sue and
John Williams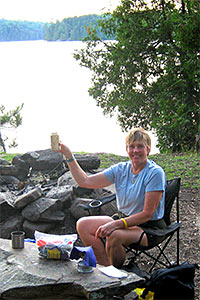 Through life experiences, professional background, and extensive reading and research, I have the ability to see the entire picture of outdoor sports and promoting a product. Since selling my Financial Advisor practice, I now want to combine my passion for the outdoors with a career in this field. I cannot think of a better way to do this then on the web.
I have camped all my life, as a Girl Scout (girl and leader), and with family. I started downhill skiing 47 years ago and realized a life long dream by becoming a ski instructor at the age of 58. I grew up I in a sailing family, so when the opportunity to learn windsurfing came up, why not? When I got married to John, he vowed to learn how to ski and I vowed to learn how to golf. As our three daughters grew, the yearly spring break trip to the Smokey Mountains became hiking trips, first to find waterfalls, and then the challenge of long distance day hikes.
I always wanted to backpack but thought you had to be a 6' twenty year old male. Then, in 1990, we met an extraordinary older man named Bill Irwin during a day hike on the Appalachian Trail. He walked all 2160 miles blind with a seeing-eye dog!! Well, that changed my idea of who long distance hikers could be. When we started running out of day hikes under 16 miles in the Smokey's, we decided to try backpacking in 1996. The first trip was awful! We were determined to figure out how to do it without killing ourselves, or each other.
For the next ten years, we read, researched, joined email groups, talked with backpacking organizations, went to conferences, asked questions, and practiced, practiced, practiced. Some of my favorite hikes are on the Appalachian Trail, Pictured Rocks National Scenic Trail, the Bruce Trail, North Country Trail, Centennial Trail, and the Annapurna Trail in Nepal. Canoe trekking seemed to fit right in, with our favorite routes being in Algonquin Provincial Park in Canada.
Sharing these experiences and skills are important, so I have walked in the Breast Cancer 3Day walk since 2001, doing 12 walks so far. To teach others how to "get out of the box" and try something new has been very rewarding. I even had my eighty- year-young mother-in-law do the walk with me. There is no age limit to having fun and challenging your mind and body. Here's to the next fifty years!
John: Founder and CEO
Email John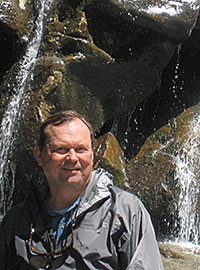 Just like the automotive industry of my youth, my outdoor interests growing up in Metro Detroit were primarily the "Big Three" team sports -- Football, Basketball and Baseball. I remained focused on them as activities through my Twenties and early Thirties. Then a more significant team became the focus of my life - my family of three daughters and Sue, my wife since 1970. And I had a very important activity to devote the rest of my time to - namely, my career.
I began my career in Education as a high school English and Psychology teacher. In fairly rapid succession, I was Dean of Students, Athletic Director, Assistant Principal, High School Principal, and then Director of an Area Career-Technical Center.
In 1998, I was recruited to join the Michigan Department of Education as State Director of Career-Technical Education. By 2000, I was appointed by then-Governor John Engler to the position of Deputy Director of the Michigan Department of Career Development, responsible for Career Technical Education, the Community College system and Adult Education and Training. In January of 2003, I started my own consulting practice in education- Ed Connect, Inc.
In the meantime, I had started downhill skiing in high school but dropped it throughout college. Then I married Sue in 1970 and she has been an avid skier since junior high so I resumed that activity and continued golfing, which she agreed to try. The birth of our daughters slowed that particular torrent of exercise to a trickle. When they reached a reasonable age, we taught them to ski and our family ski trips started. In the warmer weather, we had been camping since our first daughter was only 6 months old. We progressed through tents, pop-ups, small travel trailers, and two different motor homes, back to a pop-up, and now another small travel trailer.
Did I say we also picked up hiking, canoeing, kayaking, windsurfing, biking, backpacking, and canoe trekking along the way?!? And we did some pretty dumb things when we were just starting out in several of those ventures. Dumb things we'd like to help prevent others from experiencing.
So, at age 59, with our children living their own lives, Sue now retired from her career as a Financial Advisor, and my Consulting practice allowing more flexible time, we are embarking on our next new and very exciting activity - fiftysense.net. Come join us!