Backpacking the Appalachian Trail: Kathleen A Cutshall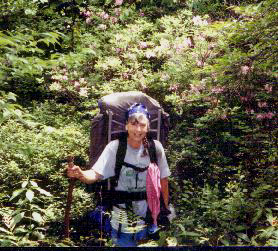 At the age of 50 I didn't know a thing about the AT....I had never been backpacking although we did a lot of camping with our children and we were an "out doorsy" kind of family.
I first read about the AT in early 1991 in one of the AARP flyers...there was a story about a woman who had hiked the trail....believe it or not, I do not remember what her name was but the story put an idea into my head and the more I thought about it the more I wanted to do it. I began to talk about this AT and a long hike and on and on I talked about this trail and how neat it would be to walk the entire length, and finally my husband said "Well, when are you going to do this?" I told him don't be saying this if you don't want me to really do it !!
And so the adventure really began in Oct. of 1991 on my 53rd birthday when I phoned the AT center and spoke at length with a woman who informed me that I could start a hike on the AT without having another person with me...Imagaine that ! That was news to me...I then purchased the maps and guide books and poured over these when I got home from work and on the week-ends....finally I made a list of places I would have my food supplies sent to. I tried to figure out some kind of menue so I could have a variety of dried foods to cook. Well of course if I were going to be out there with all of this I had to have gear .... Back then I could find very little about what I'd need and I live out in the country near very small towns.
I went to the next little town where there was an Army-Navy Outdoor store...I found a sleeping bag onsale and thought I was really doing good...hmmm the part I didn't know was that the bag was about a foot longer than it needed to be for me and that ment added weight .... little did I know.... The closest "outfitters" was quite a few miles away toward Cleveland OH. My husband and I took a drive up there and found a salesman who said "oh yes, I've been on the AT" and proceeded to show me all the things I'd need to take a hike. When we came to the 7# tent the warning bells should have sounded off when the man said "oh an extra pound won't hurt" !!!
Well, when I started off on my hike in the spring of 1992 I was very well equipt with everything I thought I might need and then some. To make a long story not quite so long, I was WAY overloaded. Four days into a very hard struggle I met my first trail angel who took me to a REAL outfitter who was located right along the trail. After determining that my pack was set for a man, and I had many things in that pack that weren't needed, like, along with a very heavy tent I also had a tarp, the first thing he took out was my little containter of deodorant....and he continued to work at helping me get the pack to fit correctly and all of the things that I should have had done before starting a long hike. Bless his heart, he could have tried to sell me alot of gear but he reworked what I had and made very little money on what I actually had to buy.
That led to me walking 748.6 miles on the trail before news of my dog being missing from home caused me to start thinking more of what if I were there, I could find her and I should be at home looking for her etc., etc., and as my daughter said:"it's called homesickness mom". Whatever it was, I left the trail. However, I really did want to see the whole darned trail and after going home and "regrouping" I decided I would restart the trail in 1993 a few days earlier than I had gotten off. Figuring I would be hiking "up to speed" when the 1993 ThruHikers who started this year March 28th caught up to me and I would be able to stay with them thru the rest of the trail. This way I would be pretty much experiencing a thruhike even though it was really my "second section".
I had a great second section, met many more great folks and completed hiking the whole AT. And finished my hike in Oct 1993 just a few weeks before I turned 55. Even though you might be 50 yrs old you CAN try new things and have new adventures. It does make your life easier if you can find someone who has already " been there and done that " so you can see what kind of experience that person had and what would have made it better for them and act accordingly.
Since hiking the AT I have not done any more solo hikes but I have gone backpacking with friends and finished up the Long Trail, a section on The Bruce Trail, a loop trail out in Glacier Nat. Park, Pictured Rocks Trail and several sections on and around the AT. My hiking days have come to an end however as my hubby needs my assistance at home. He was my supporter while I was backpacking and now I am his supporter as he is wheelchair bound.
Kathleen A Cutshall AKA The Old Gray Goose
http://ww2.suite224.net/~atgoose/