GENERAL RESOURCES - Book Reviews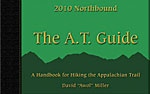 The AT Guide
by David "AWOL" Miller

www.theATguide.com
There are many books written to help the hiker on hikes along the Appalachian Trail. Until this book, we find, we have had to pick out information from many resources every time we want to a hike. Many books are confusing, or now as complete as we would like. This book is awesome! It is obvious that this is written by a thru hiker who spend many hours (or days or months) figuring out to write a handbook that makes hiking knowledge easy. What an amazing concept, helping hikers minimize the chances of becoming lost. A big thanks goes out to David Miller for his commitment to giving back after his through hike to help others enjoy their backpacking experience more.
This book can be used in it's entirety since it is only 8 oz, or split up for section hikes. On two pages, it contains landmarks, mileages, and elevations for that section of the AT. It has maps for more than 40 towns along the trail, and listings of services available along the way. The elevation profile maps include cooordinates for over 200 trailhead parking areas, so you can use your GPS to find your way to the trail. This is also huge if you have to or want to get off the trail. The triple shelter mileages: see the distance to the next three shelters in each direction makes it easy to decide if the hiker wants to continue hiking any given day. So much of backpacking is based on going to Plan B, or C, or D.
There are symbols for quick identification of services. Who knows when you want need something not planned on. The book comes with a heavy duty zip-lock bag. Even though there is information of northbound and southbound in all three books, northbound, southbound, and loose-leaf editions available for those who are looking for the easiest book to read for the direction hiking.
...Fiftysense Product Review Panel