Cycling: How to Plan a Long Distance Bicycle Tour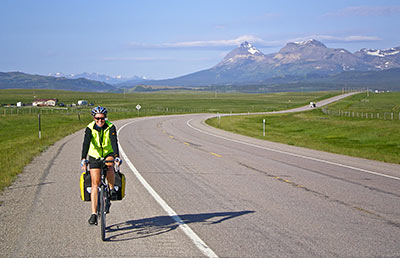 Find a Bike
Long Distance bicyclists prefer a bike that is capable of handling a load while providing a comfortable ride over long distances. Touring bikes usually have a longer wheel base for stability and heel clearance, typically have three water bottle mounts, frame fittings on the front and rear fork also called eyelets for front and rear panniers, front and back fenders and puncture resistant touring tires.
Trek 520 $1,240.00 www.trekbikes.com
T2000 $1,600.00 www.cannondale.com
Co-Motion Americano $3,070.00 www.co-motion.com
Seats
There is a reason they manufacture bike seats, also known as saddles, separately for men and for women. The simple reason is we're shaped differently! Men's bike seats are longer and thinner, while a women's seat are shorter and wider.
Test a seat, sit on it for minute, and immediately look to see if you can see the indentations of your sit bones centered over the rear of the saddle. If the indentations are not centered try another seat.
Some seats have cutouts to help relieve pressure on sensitive tissue reducing numbness and pain.
If you're still having trouble finding the right seat ask other riders for recommendations, adjust your seat height and angle, move around on the seat while riding to change pressure points, wear bicycle shorts with chamois padding and ride more.
Terry Donna's Black Butterfly www.terrybicycles.com/saddles
Brooks B17, Flyer or Countess www.brookssaddles.com
Specialized Women's Dolce www.specialized.com
Decide If You're Riding Solo, With A Partner or With a Group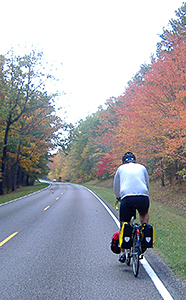 Two sources to find a riding parter:
www.crazyguyonabike.com
www.adventurecycling.org
A women only bicycle tour group catering to women over 50: www.womantours.com
Decide How You'd Like to Tour
Credit Card Touring- travel very light staying at hotels and hostels along the way, eating out at restaurants.
Fully Loaded-also known as self supported carrying everything you'd need, food, camping gear including tent, sleeping bad and stove.
Supported Tour- a SAG (acronym for Support and Gear) vehicle follows your route carrying all your gear.
Gear Carriers
Bicycle touring is very similar to backpacking. Pack panniers just as you would a backpack. One exception, you're going to now carry a couple of pounds of bicycle repair tools.
A good source for front or rear racks, panniers and packs:
www.thetouringstore.com
Some bicycle tourist like to travel with everything but the kitchen sink. Trailers designed to haul large loads nearing 100lbs are commonly called BOBs (Beast of Burden).
www.biketrailershop.com
Map and Route Source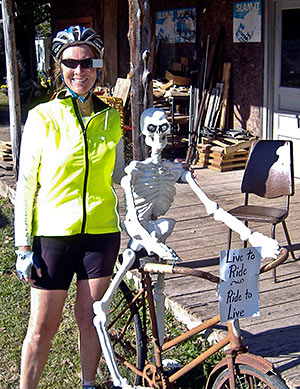 For more information on trip planning and maps contact:
www.adventurecycling.org.
This non-profit was founded in 1973. Adventure Cycling calls itself America's bicycle travel inspiration and resource, offering many programs for cyclists, including a national network of bicycle touring routes and organized trips.
Its most popular route is the TransAmerica Trail (formerly the Bikecentennial Trail) which runs between Astoria, Oregon and Yorktown, Virginia. The route network contains more than 30,000 miles of road and mountain bike routes.
Read All That You Can
A great online worldwide bicycle journal, forums, reviews and classified source is www.crazyguyonabike.com
Common Bicycle Tools To Carry
Multi-Tool- Topeak Alien II
Tire Pump- Topeak Road Morph
Tire Gauge- Presta or Schrader Valve stem
Two Spare Tubes
Patch Kit
Zip Ties
Clothing
Helmet
Sunglasses
Take-a-Look rear view mirror (helmet or sunglass mounted)
Warm and cold weather gloves, rain mitts
Bike shoes
Socks acrylic for summer, smart wool for winter or cool conditions
Bicycle shorts with built in chamois
Tights
Patagonia silk weight long sleeve shirt
LL Bean short sleeve bicycle shirt
Wind stopper skull cap
Power stretch long sleeve half zip pullover
Screaming yellow vest
EMS Raincoat and Golite Reed rain pants
Women- wrap around skirt to cover bike shorts
Crocs to wear in town after the day's ride is done
Email us your favorite cycling stories!